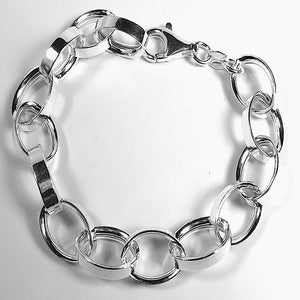 From our Sterling Silver Jewelry Collection:
This bracelet is a perfect addition for your every day wear. It is crafted of .925 Italian Sterling Silver domed oval links, and secured by a lobster clasp. Wear it with other bracelets or a watch for a very on-trend luxury look.  Arrives in a gift box.  Great gift idea or keep for yourself.
Length:          8 inches.
Link width:   

½ inch.

Weight:          12.65 grams.
Closure:         Lobster clasp.
Metal:             Polished .925 Italian Sterling Silver. Nickel Free.
Shipping: Free USPS Priority Mail Shipping, all orders. Usually Ships next business day.

Care:  Avoid extreme temperatures and humidity.  Store in air tight bag when not wearing. Store alone to avoid scratches by other jewelry.  Do not shower while wearing or allow contact with any harsh chemicals, perfumes or colognes.