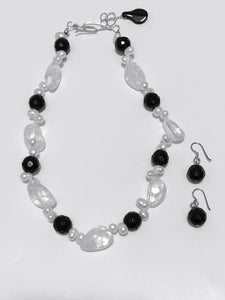 From our Natural Gemstones Jewelry Collection:
Description:
Clear crystal quartz nuggets stand out among the faceted black onyx and fresh water pearls composing this very chic necklace.  Beautifully artisan crafted, this necklace will be an elegant addition to your jewelry collection. The matching faceted onyx earrings dangle on a Sterling Silver French hook.  Great year round look! 

Materials:   Crystal quartz, black onyx, fresh water pearls, .925 Italian Sterling Silver.
Necklace:   Approx.18 inches.  Sterling Silver Fish hook clasp and closure.

Earrings:   1 inch Single onyx  bead, Sterling Silver hook.

Shipping: Free Standard USPS Priority Mail Shipping, all orders. Usually ships next business day.  Gift box is included.

Care:  Avoid extreme temperatures and humidity.  Store in air tight bag when not wearing. Store alone to avoid scratches by other jewelry.  Do not shower while wearing or allow contact with any harsh chemicals, perfumes or colognes.