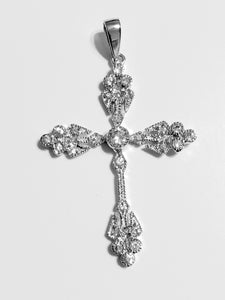 Finely crafted .925 Sterling Silver CZ Filigree small cross adds subtle elegance to any neckline. It is a lovely expression of your faith. Gift that very special person in your life or keep for yourself.  A complimentary Sterling Silver chain is included.

Pendant:  1 1/2 inches drop.
Width:      1 1/8 inches.
Chain:      18 inches.
Metal:      .925 Sterling Silver.

Gem:        Clear Cubic Zirconia.
Shipping: Free Standard USPS Priority Mail Shipping available, all orders. Usually ship next business day.

Care:  Avoid extreme temperatures and humidity.  Store in air tight bag when not wearing. Store alone to avoid scratches by other jewelry.  Do not shower while wearing or allow contact with any harsh chemicals, perfumes or colognes.